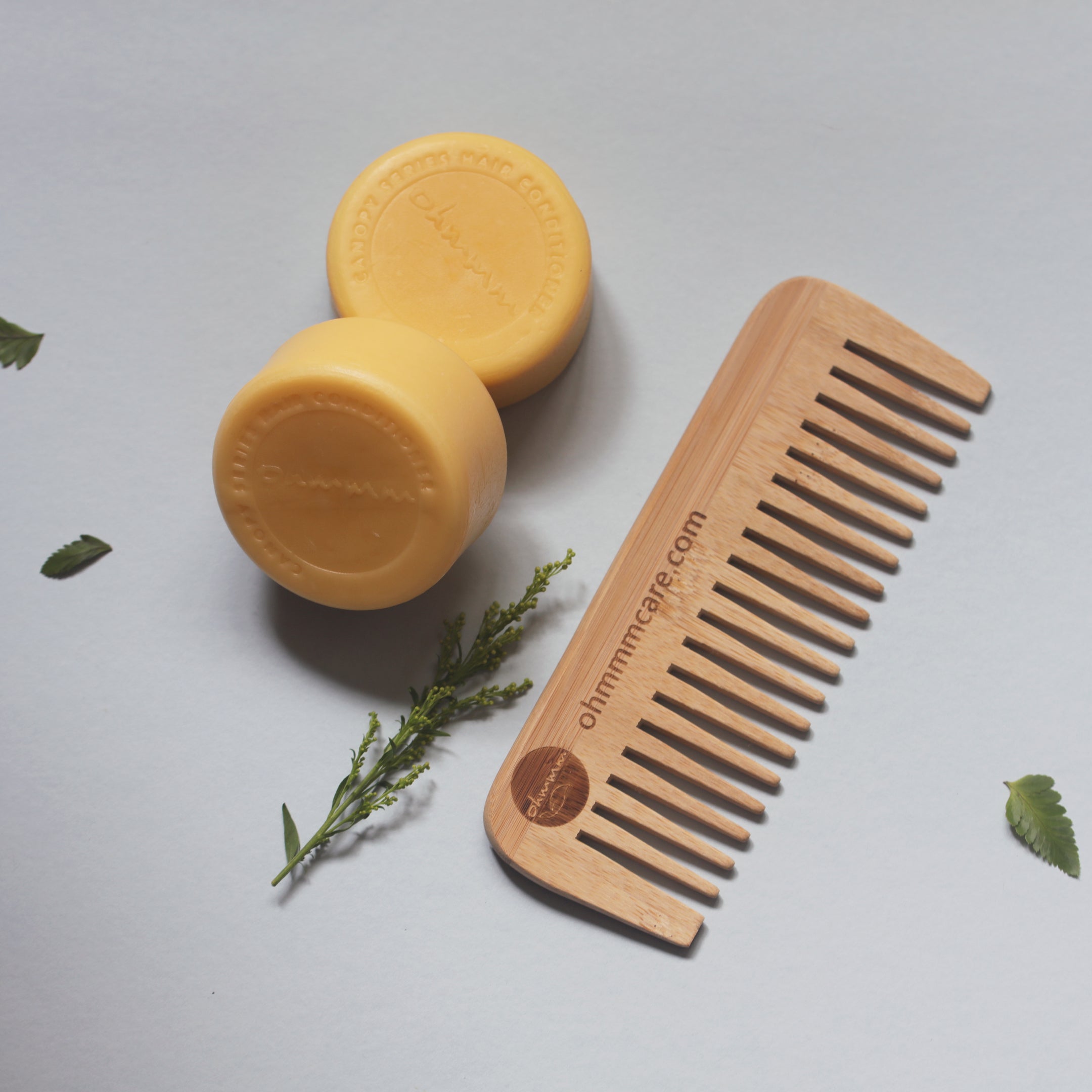 Canopy Conditioner & Detangler Set
1,685.00 ฿
Regular price
1,876.00 ฿
Subscription • Save
What's Included
2 Canopy Conditioner Bars (110g / 3.9oz)
1 Canopy Pure Bamboo Detangler (166mm / 6.5in)
Conditioner Bar
What It Is
Rich in high-quality and minimally-processed vegan oils including argan oil, castor oil, camellia oil, and olive oil, Canopy conditioner bar completes your hair regimen by gently moisturizing your locks. It is even gentler on the planet with plastic-free packaging! 1 bar replaces replaces 3 X 400ml (14fl. oz) liquid conditioner & prevents 1lb of marine plastic. Pair the conditioner bar with Canopy Water-activated Powder Shampoo for a complete home hair spa treat!
Free of: Sulfates, Plastic, Parabens, Silicones, Artificial Chemicals, Cruelty
Suitable for: All hair types

🌱 Plant-based & artificial-chemical-free formula that is highly-moisturizing & rinses off cleanly
🌱 All-natural ingredients for shinier, smoother, and fuller hair
🌱 Zero-plastic formulation and packaging
🌱 Zero-waste
🌱 Great Value: 180+ washes (up to 1 year alternate-day usage)
Benefits

Moisturized, Softer, Shinier Hair

 

as the premium

 

vegan oils

 

(argan, camellia, castor, and olive oil) work their magic on your tresses!
Lasting, Light Fragrance

 

from a touch of bergamot essential oil ensures your hair smells fresh & luxurious all-day.
Plant-based & all-Natural Formulation

 

rinses off cleanly, leaves no greasy / sticky residue behind
Great Value good for 180+ salon-quality washes each bar

 

(up to 1 year alternate-day use)
Ingredients
Argan Oil, Castor Oil, Olive Oil, Camellia Oil, Bergamot Essential Oil, Cetearyl Alcohol, Sodium Cocoyl Isethionate, Silk Amino Acid, Kelp Extract, Centella Asiatica Extract, Persicaria Tinctoria Powder, BTMS-50, Vitamin E-tocopherol
How to use?

  Wet the hands and rub the conditioner bar vigorously in-between the palms to generate a layer of conditioner.

  Apply the layer of conditioner from mid-length to end of the hair.

  Repeat steps 1 and 2 to add more conditioner onto the hair.

  Rinse off the conditioner with water.

Bamboo Detangler
What It Is
Made from 100% raw bamboo. Use Canopy detangler for smooth, static-free locks and a fitting finale to your hair regimen! True to Ohmmm's brand values, it is free of any harsh chemical, varnish, or wax coating. and gentle on the planet. 
Suitable for: all hair types
Benefits

Static-free

 

detangling

Improved scalp circulation

 

for better hair growth & strength
Unique grain pattern

 

for every piece
Wide tooth

 

suitable for use on both dry or wet hair
Zero-waste
Material
100% Bamboo

Note

Keep vertical in a dry place after use to ensure longevity

Grain variation and the resultant tonal variation of the Ohmmm logo print is a naturally occurring property of bamboo and not a product defect
Canopy Conditioner & Detangler Set
1,685.00 ฿
Regular price
1,876.00 ฿
All-Natural Ingredients
We carefully select & source all ingredients to ensure that they are safe for you and the environment. All Ohmmm products are free from Sulfates, Parabens, Silicones, Artificial Chemicals and Animal-Cruelty!
Plastic-Free Solutions
The Personal Care industry is the second-largest plastic polluter! So we set out on this mission to go completely plastic-free in both our formulation and packaging
Water-Activated Formulation
Regular liquid personal care products can contain up to 90% water. Ohmmm products are solid form (either powder or bar) to retain maximum concentration of the nourishing formulation. Light, travel-friendly, and activated as and when you choose to use it!
FAQs
Are your products cruelty-free?
Yes, we never test on animals!
Where can I buy your products?
Currently our main point of sales is at our website ohmmmcare.com.
Are your products vegan?
Yes, the Pure Bamboo Detangler are vegan! We are working to bring you a vegan version of the Canopy Water-activated Powder Shampoo & Conditioner Bar, so watch this space!
When does your product expire?
All Ohmmm Care products have a shelf life of 2 years (6 months after opening). 
Are your products safe for use for all ages?
Yes, our products are safe to use for all ages. Some products come in glass bottles so we recommend handling with care.
Are your products completely natural?
Yes! As far as possible, we strive to only use beneficial ingredients that come from natural sources. We also have a high level of quality control to ensure they are safe, stable, and effective for your needs. Rest assured that we take utmost care in making sure that gentle and low-hazard ingredients are used in our formulas.
Shipping
Where does Ohmmm Care ship to?
We ship internationally to most countries! If you do not find your country in the drop-down list, please email us at hello@ohmmmcare.com and we are more than happy to help you out!
Order tracking
Please allow the carrier 1 – 2 business days to register your shipping status. If your tracking number is not working, please reach out to us at hello@ohmmmcare.com and we will assist you.
Get in touch
Email us at hello@ohmmmcare.com or WhatsApp us at +65-8839-8538 and we'll be happy to answer your questions!