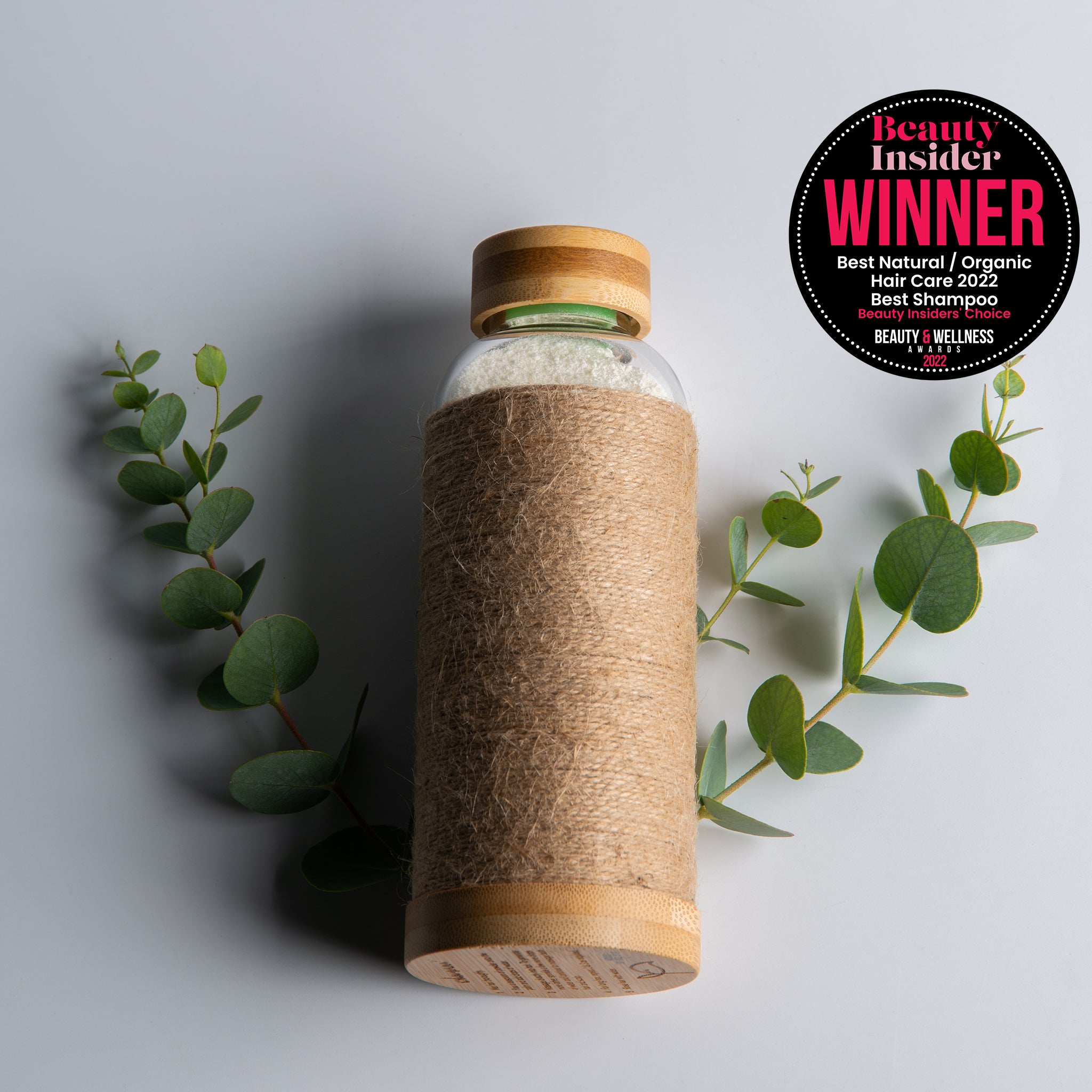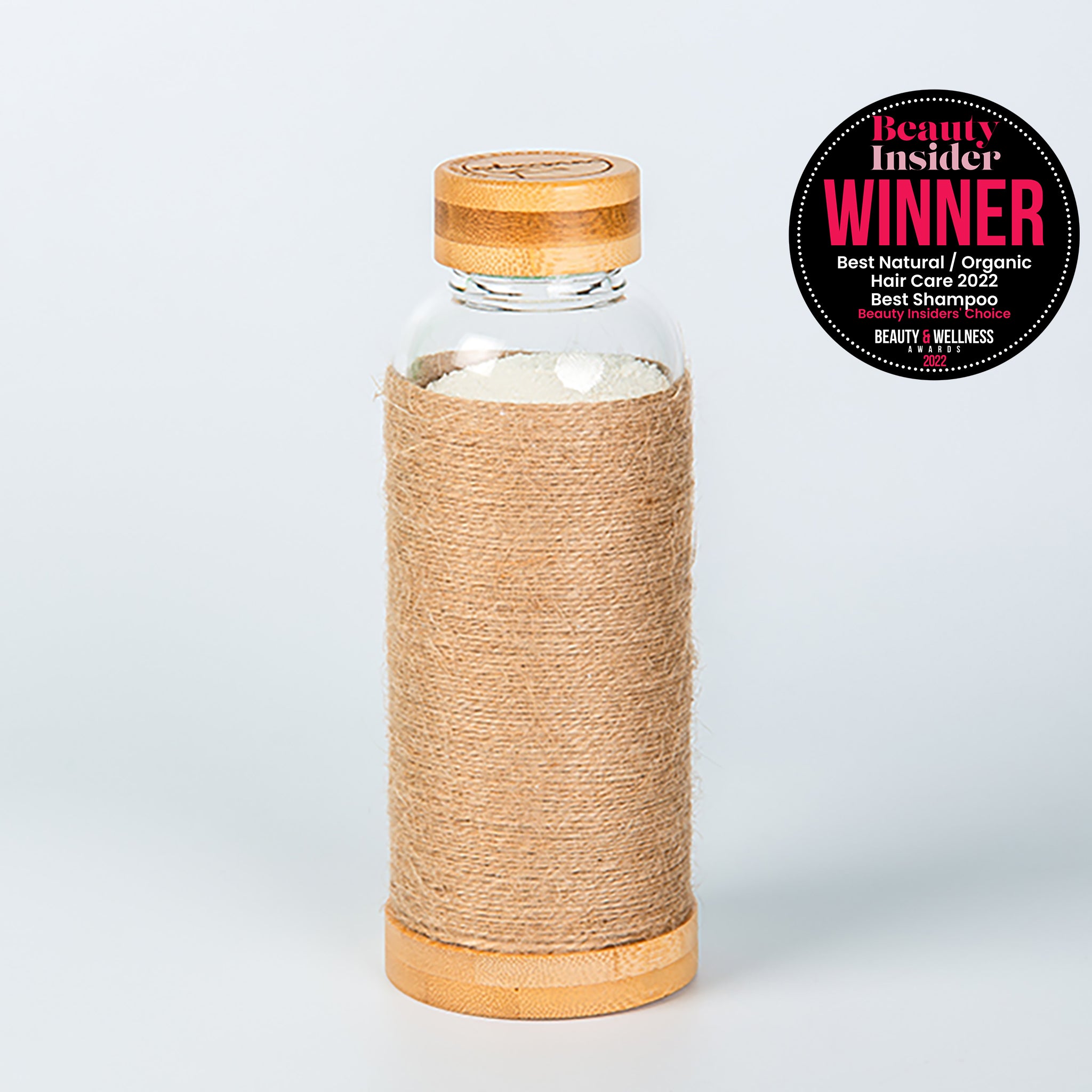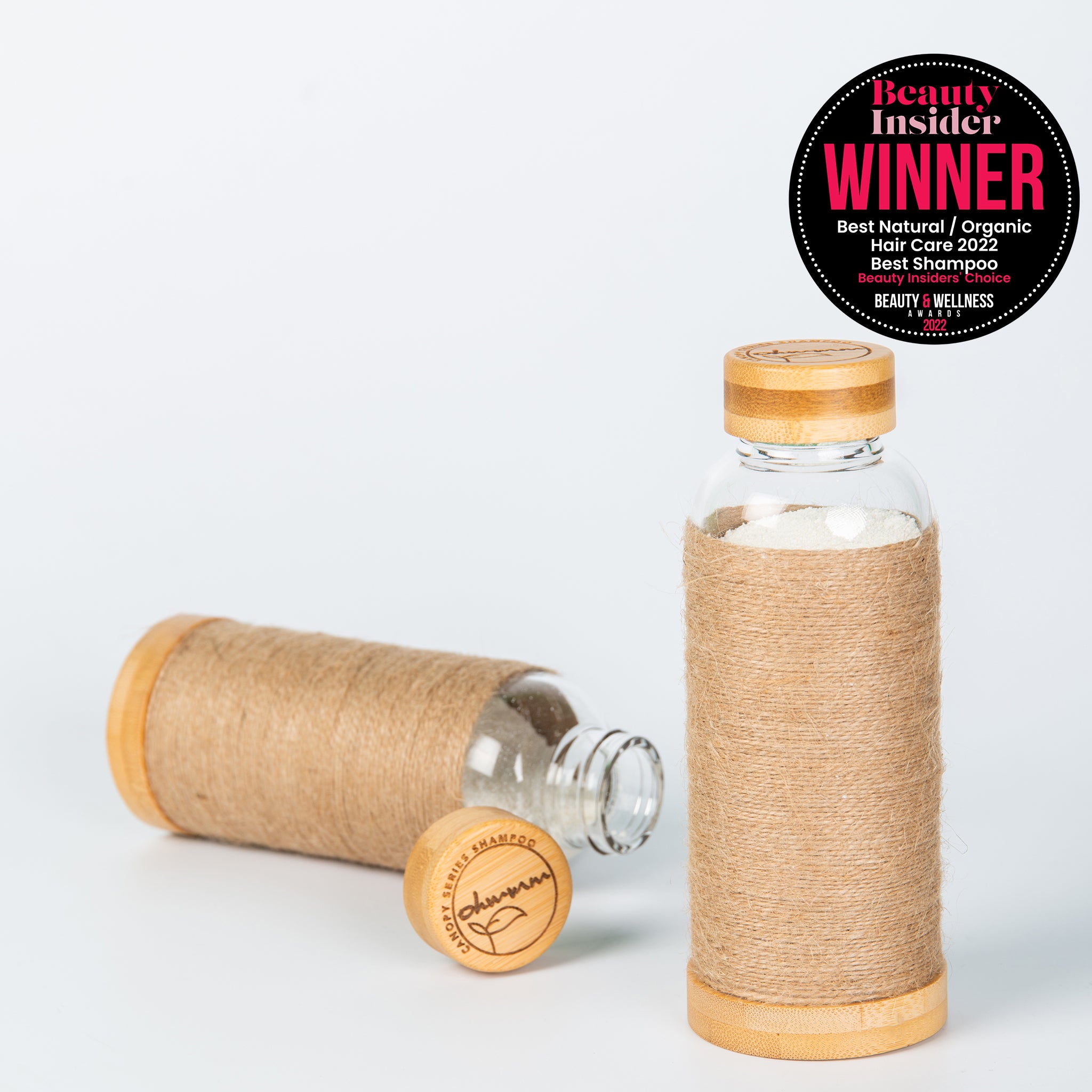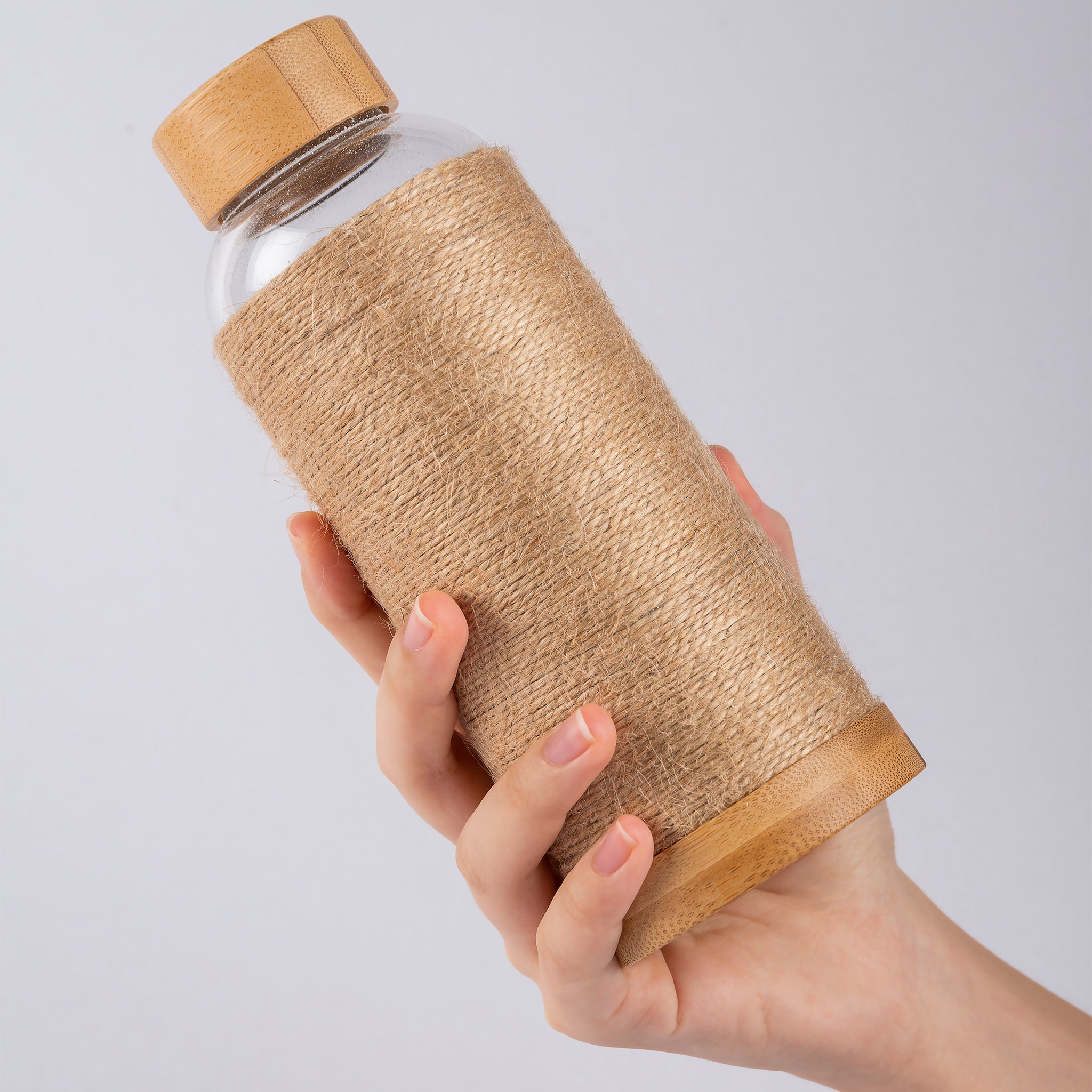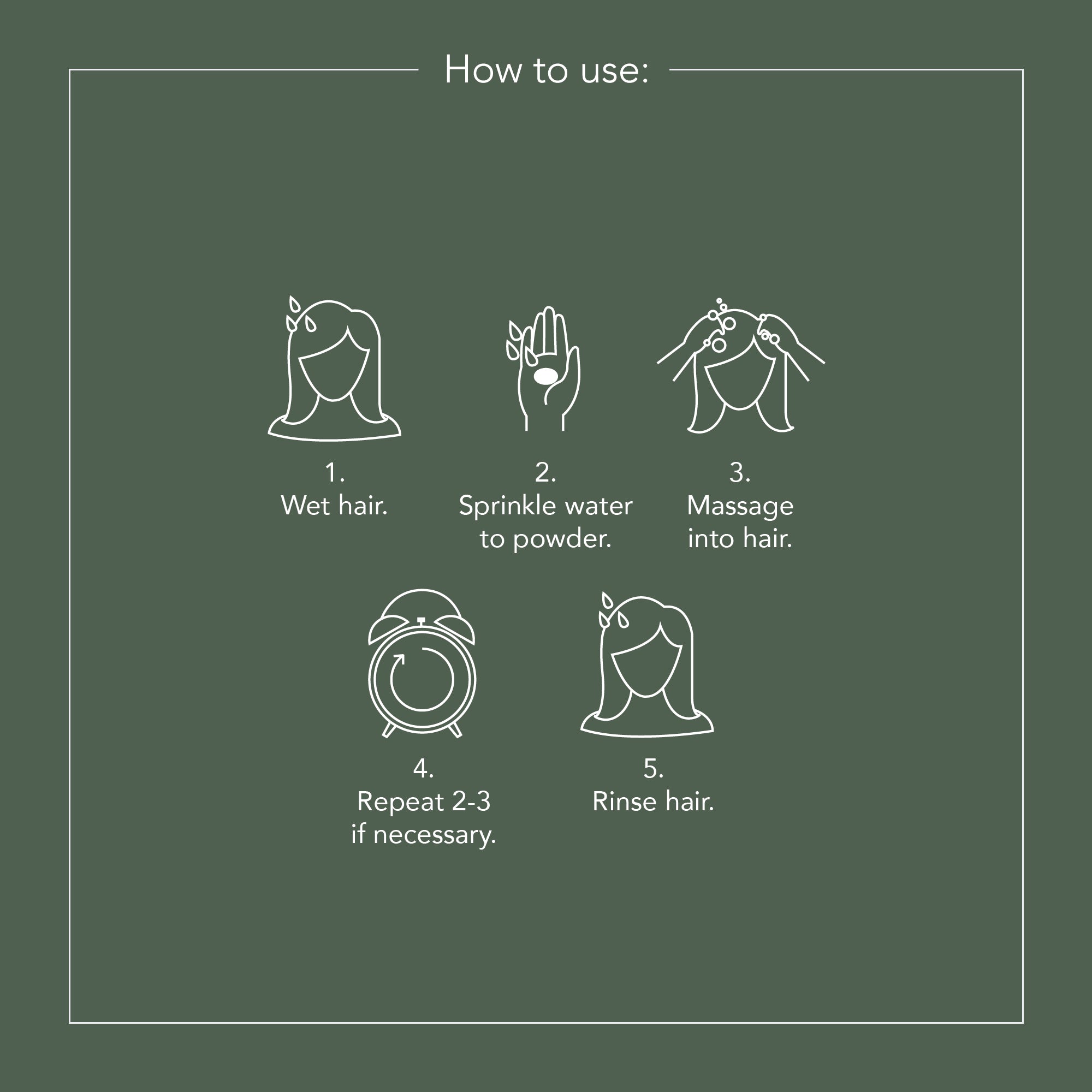 Canopy Water-Activated Powder Shampoo
What's Included
1 Bottle (113g / 4oz) award-winning Canopy Water-Activated Powder Shampoo
What It Is
Beauty Insider's Best Natural/Organic Shampoo 2022. Plastic-free, plant-based water-activated powder shampoo that is great for your hair & scalp, and even better for the earth! 1 bottle replaces 3 X 400ml (14fl. oz) liquid shampoo & prevents 1lb of marine plastic.
Say hello to a revitalized scalp with concentrated powder that's chock full of naturally-derived ingredients such as coconut oil and sea salt, and completely free of sulfates, plastic, parabens, silicones, and artificial chemicals.
Suitable for: all hair types, especially for anyone with sensitive, damaged, or delicate scalp.
🌱 Plant-based, artificial-chemical-free formula stops scalp itch & acne, is gentle, and restorative
🌱 All-natural ingredients for shinier, smoother, and fuller hair
🌱 Zero-plastic formulation & packaging
🌱 Zero-waste with infinitely-reusable bottle & zero-plastic refill packs
🌱 Great Value: 150+ salon-quality washes

Note: Additional space in the bottle is to allow you to shake and loosen any powder that may have settled during storage or transportation.

Benefits

Plant-based with natural ingredients for Salon-quality Scalp-care; Anti-Dandruff + Stops Scalp-Sensitivity/Itch/Acne quickly & effectively. Coconut oil, sea salt, and cornstarch combine to powerfully cleanse yet remain gentle to the most sensitive scalps. Salicylic acid fights acne & dandruff, and helps treat various scalp conditions. Powder also acts as a mild scalp scrub to deep cleanse the scalp. Say goodbye to harsh chemical allergy & acne-prone / itchy / sensitive scalp forever!

Anti-Frizz, Anti-Hairfall, Volumizing; get Shinier hair. Keratin, collagen, niacinamide, and panthenol combine to improve scalp circulation, reduce hair fall, strengthen hair roots, and promote hair growth & moisture retention! Harsh chemicals strip hair of its natural oils, leading to excessively dry or oily hair & scalp, and hair fall. Quality ingredients in Canopy shampoo thoroughly nourishes hair & scalp, restoring its natural oil balance & shine!
Travel-friendly. Bring onboard plane cabins, on your road trips, or staycations. Keep up your salon-quality haircare regimen on-the-road. Up to 85% lighter than liquids: easy-to-carry & spill-proof!
Great Value: 1 Bottle replaces 3 Bottles of 14fl. oz (400ml) Liquids. Concentrated powder formulation gives 150+ salon-quality washes per bottle (up to 10 months' alternate-day use, depending on hair length and desired lathering)
Protects Earth: Plastic-free, Infinitely-reusable Bottle; Refill available. Canopy Shampoo bottles are plastic-free & refillable! Click to shop refills. Powder rinses off more cleanly & easily, reducing water consumption in use. Compact & light form-factor lowers transport carbon footprint by up to 80%. All-natural ingredients are safe for soil and marine life & environment.
Ingredients
Sodium Lauroyl Glutamate (coconut source), Sodium Cocoyl Isethionate, Sea Salt, Hydrolyzed Keratin, DL-Pathenol, Cornstarch, Hydrolyzed Collagen, L-Menthol, Niacinamide, Salicylic Acid
There is no added fragrance or essential oil in this product.
How to use?

  Wet hair thoroughly.

  Pour a teaspoon of powder onto the palm and add drops of water.

  Massage directly into hair. To generate more lather, sprinkle a few more drops of water and continue to massage both hair and scalp.

  For long hair, repeat steps 2 and 3 as required.

  Rinse hair with water.
Canopy Water-Activated Powder Shampoo
All-Natural Ingredients
We carefully select & source all ingredients to ensure that they are safe for you and the environment. All Ohmmm products are free from Sulfates, Parabens, Silicones, Artificial Chemicals and Animal-Cruelty!
Plastic-Free Solutions
The Personal Care industry is the second-largest plastic polluter! So we set out on this mission to go completely plastic-free in both our formulation and packaging
Water-Activated Formulation
Regular liquid personal care products can contain up to 90% water. Ohmmm products are solid form (either powder or bar) to retain maximum concentration of the nourishing formulation. Light, travel-friendly, and activated as and when you choose to use it!
FAQs
Are your products cruelty-free?
Yes, we never test on animals!
Where can I buy your products?
Currently our main point of sales is at our website ohmmmcare.com.
Are your products vegan?
Yes, the Pure Bamboo Detangler are vegan! We are working to bring you a vegan version of the Canopy Water-activated Powder Shampoo & Conditioner Bar, so watch this space!
When does your product expire?
All Ohmmm Care products have a shelf life of 2 years (6 months after opening). 
Are your products safe for use for all ages?
Yes, our products are safe to use for all ages. Some products come in glass bottles so we recommend handling with care.
Are your products completely natural?
Yes! As far as possible, we strive to only use beneficial ingredients that come from natural sources. We also have a high level of quality control to ensure they are safe, stable, and effective for your needs. Rest assured that we take utmost care in making sure that gentle and low-hazard ingredients are used in our formulas.
Shipping
Where does Ohmmm Care ship to?
We ship internationally to most countries! If you do not find your country in the drop-down list, please email us at hello@ohmmmcare.com and we are more than happy to help you out!
Order tracking
Please allow the carrier 1 – 2 business days to register your shipping status. If your tracking number is not working, please reach out to us at hello@ohmmmcare.com and we will assist you.
Get in touch
Email us at hello@ohmmmcare.com or WhatsApp us at +65-8839-8538 and we'll be happy to answer your questions!